When a coach of Toni Nadal's stature joins Felix Auger-Aliassime's team, expectations come part and parcel with the sizeable opportunities.
The 20-year-old, ranked 21 in the world, is under no illusion the appointment of Rafael Nadal's uncle and former long-time coach will bring immediate results and isn't about to let the anticipation become too great too soon.
As the Canadian prepares to face Italian veteran Andreas Seppi in the first round at Roland-Garros this year, he said the addition to the team was more of an extended plan.
"I don't think the expectations are higher since I've been working with him… All my life I've had very high expectations for myself. I don't think Toni adds more to that," Auger-Aliassime told rolandgarros.com.
"What I'm trying to do, which is be top 10 and eventually win Grand Slams, there's nothing higher than that. Adding somebody who has done it before just brings I think more calmness and confidence than pressure really.
"That's how I see it, I don't feel like it comes with higher expectations. If people think I should add him to my team and win Roland-Garros right away that's up to them but that's not really how I see it."
Since Nadal joined the team, Auger-Aliassime has won four of his nine clay-court matches.
His best result came in Barcelona, where he beat compatriot and seventh seed Denis Shapovalov for the second time this year before falling to eventual finalist Stefanos Tsitsipas in the quarter-finals.
In Rome he also claimed a win over last year's Roland-Garros semi-finalist Diego Schwartzman before Federico Delbonis sent him packing in the round of 16.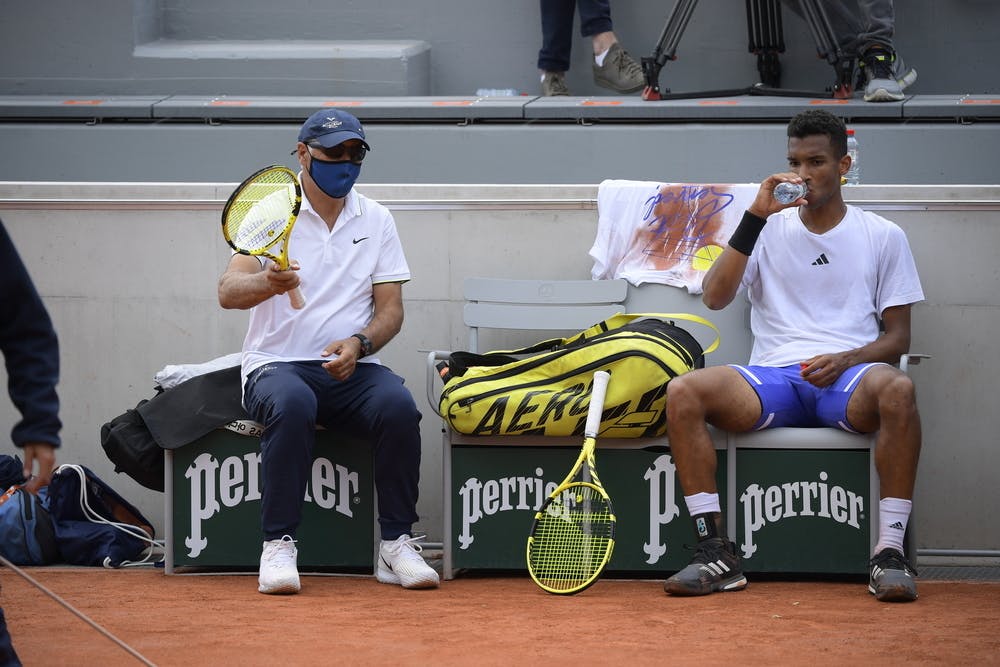 © Julien Crosnier/FFT
"I think he can help me reach my goals, my potential. That's what we're working on every day," Auger-Aliassime said of Toni Nadal.
"The preparation is not that different or far from what I'm used to doing before tournaments or before Grand Slams.
"Of course we try to work with very high commitment, intensity and focus. That's what I try to do and then every day try to do a little bit better to feel good when the first day of the tournament comes. But I think we have a lot of good work to do to reach further success."
After he reached his seventh tour final in the Murray River Open to start his season in Melbourne, Auger-Aliassime advanced to the fourth round at a major for the first time at the Australian Open, only to let a two-set lead slip against Aslan Karatsev.
He may not have been in "the zone" that afternoon in Melbourne, but if he found his best in Paris, Auger-Aliassime knows anything is possible.
"I think that's what every player looks for really," he said. "For me the zone is… the feeling where I think you find the right balance between being aggressive and being consistent and solid in a way.
"It's just the perfect line, the perfect balance when you feel like you have control of the rallies… That's a great feeling that you try to reproduce every time."